Join RCCS for Bowling Night at Cougar Lanes on September 17th! Contact the PTF at
ptf@rccs.us
for more information.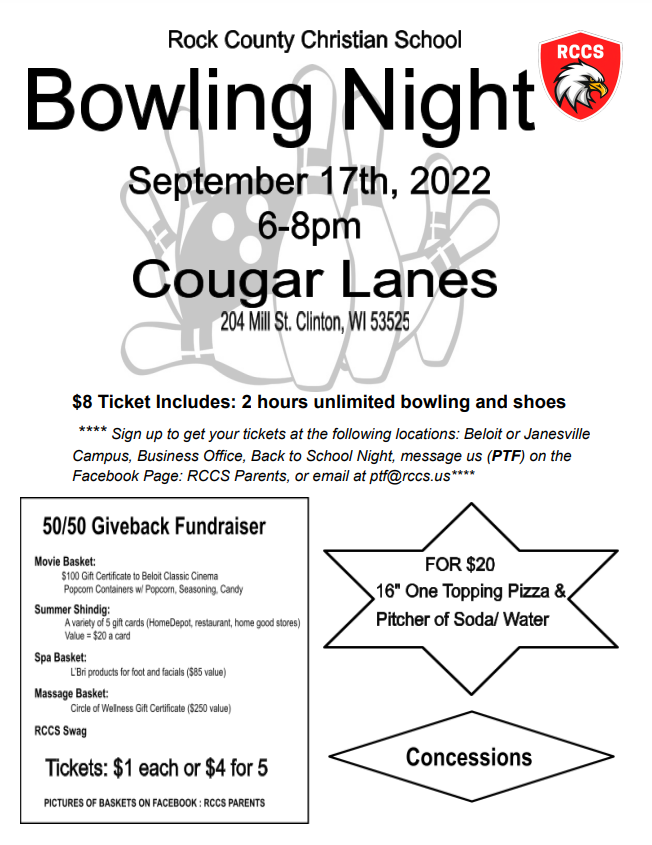 Rock County Christian School Back to School BBQ!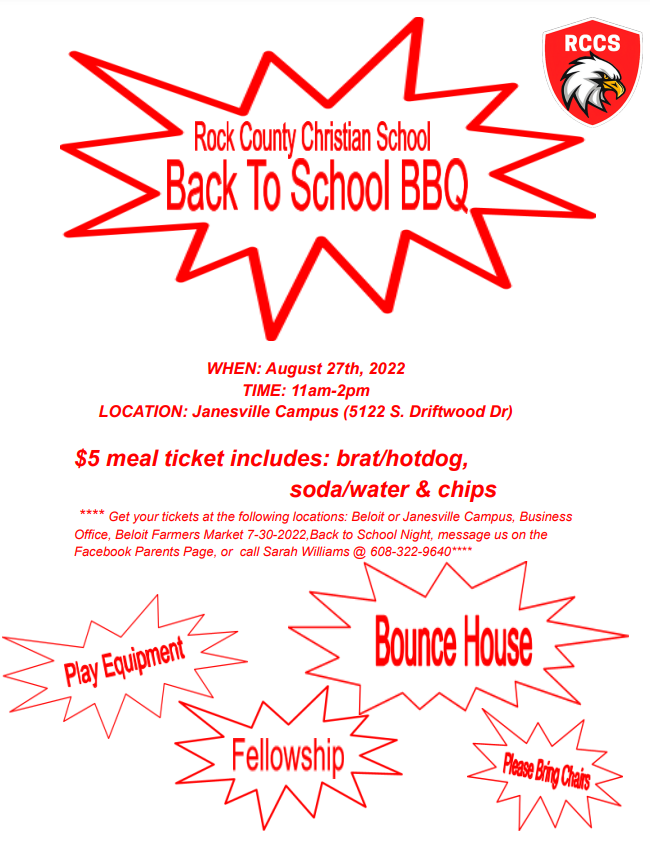 Tuesday, August 16 - Beloit Campus Back to School Night: 6:00-7:00PM Back to School Night; 7:00-7:30PM Fall Athletic Parents Meeting Thursday, August 18 - Janesville Campus Back to School Night: 6:00 Start time - fill out paper work - meet and greet - treats; 6:15, 6:30, 6:45 Teachers talk in the classrooms; 7:00 Meet in the gym; 7:25 Sports meeting
The first PTF meeting will be August 9th @ 6:30PM at the Beloit Campus!
Join Sun Valley Presbyterian Church for their 14th annual Strawberry Festival on Saturday, July 9, 2022 from 7am - 3pm. Strawberry Festival and Sun Valley Presbyterian Church is looking for volunteer help for the 14th annual festival on July 9. This fun family event runs from 7 am to 3 pm with raffles, food, live entertainment, crafters, bake sale and a kids carnival. The Strawberry Festival continues to support local missions such as Caritas, Beloit Hospice, Family Promise and DEFY Domestic Abuse. They are looking for additional help running the kids carnival between 9 am and 3 pm. If you are interested in helping, please contact Teresa Molencupp 608-346-6731.

Register now for summer school! Visit rccs.us for a class list and registration papers.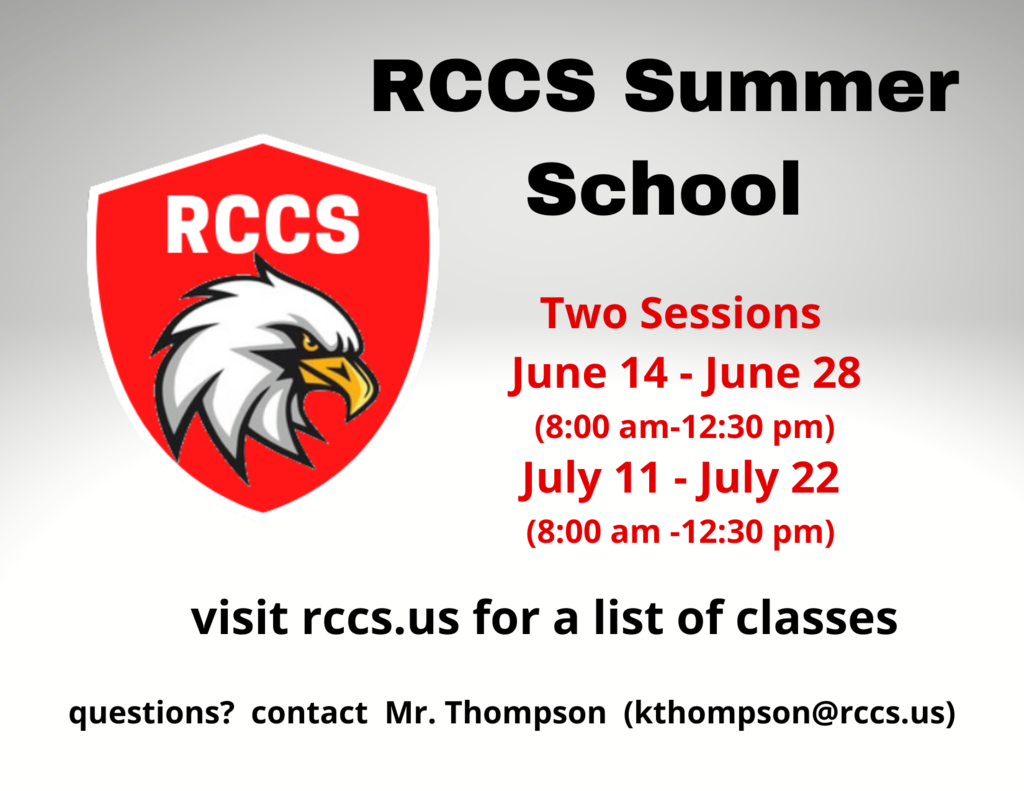 Thrivent Local Book Drive Tuesday, May 10 11:00 a.m - 2:00 p.m. Thank you, Thrivent, for collecting books for Rock County Christian School! Drop off new and gently used books on Tuesday, May 10, at Thrivent (2225 Cranston Road, Beloit). The first 100 people dropping off a donation will receive a Jimmy Johns lunch compliments of Thrivent. The books collected will benefit Rock County Christian School. Visit our wish list at
https://tinyurl.com/2p9x94d9
. In addition, for every new or gently used book donated, Thrivent will donate $2 per item up to $1000 to the Stateline Community Foundation Literacy for Life. Thank you for making an impact in your community!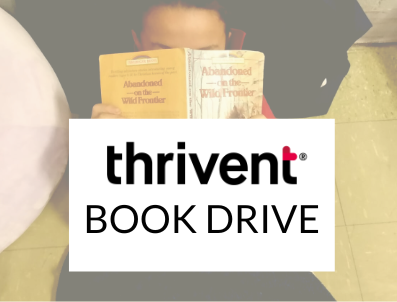 Our teachers were overwhelmed with the love shown to them by the RCCS families on this first day of Teacher Appreciation Week. The snacks and lunch were delicious! Thank you for starting their week off in such a nice way. And third graders were EGG-CITED to finally get their hatching eggs today! We can't wait to share updates with you as we wait for them to break out! Tomorrow's special day for Teacher Appreciation Week is Thankful Tuesday. The PTF asks that families consider writing a note of encouragement to your child's teachers, and send them to school tomorrow.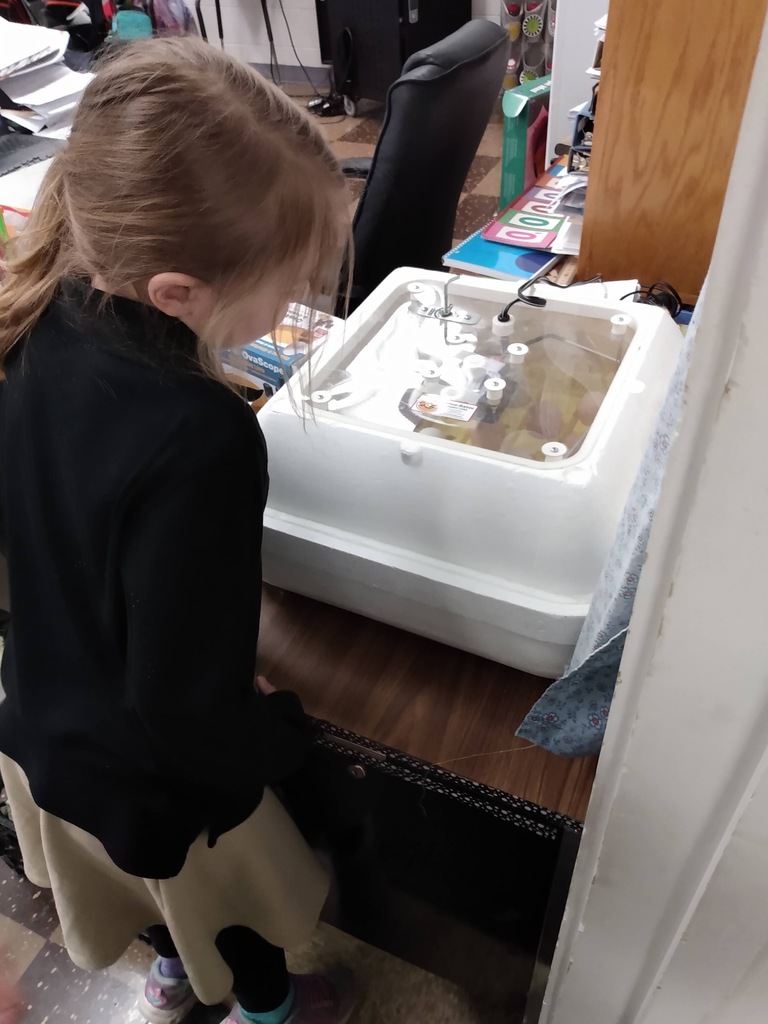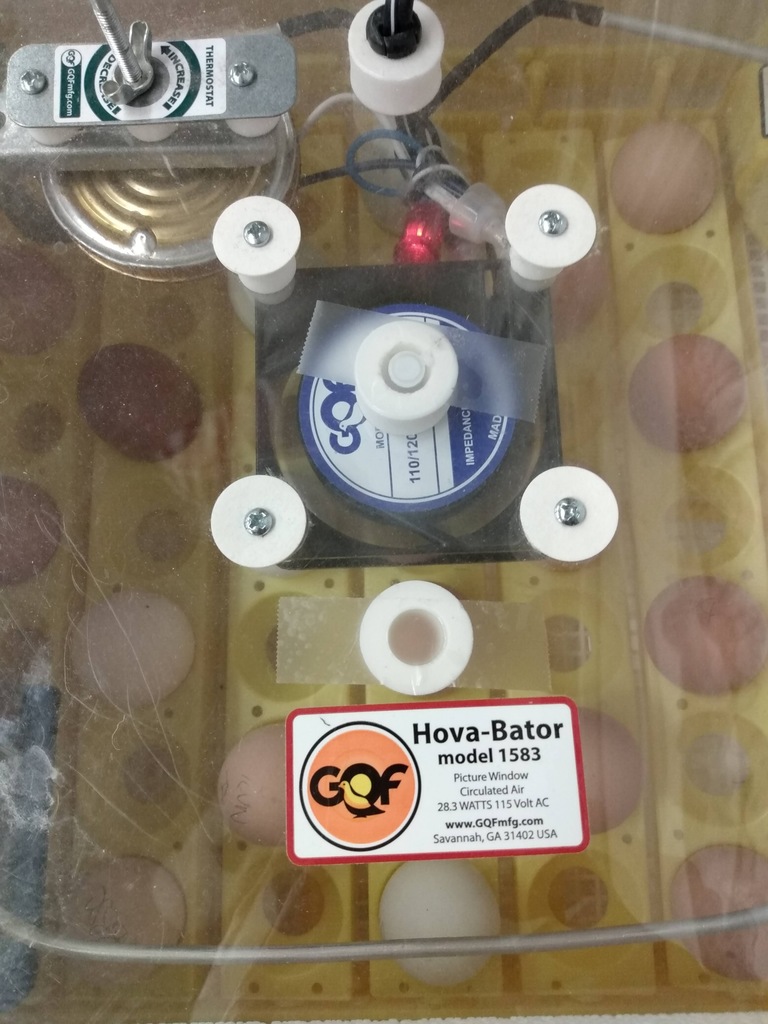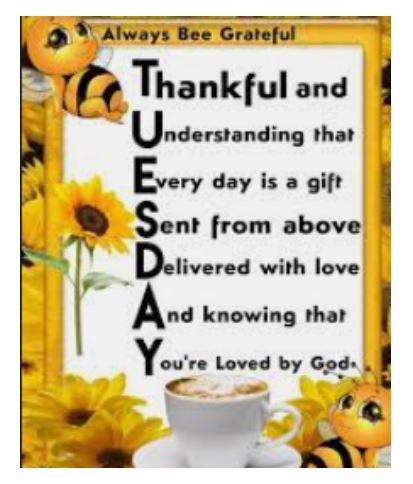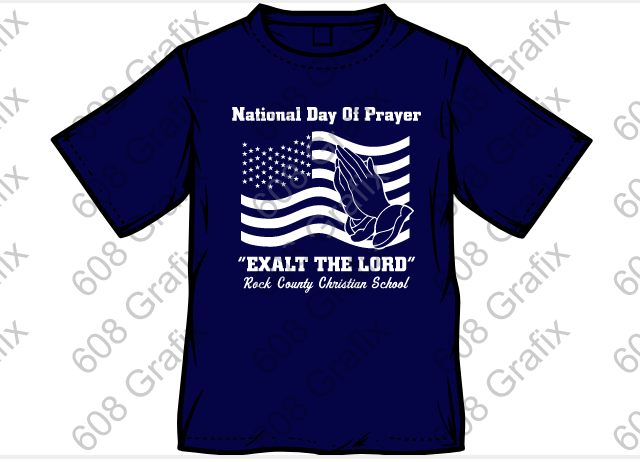 JUNIOR HIGH/HIGH SCHOOL RCCS FINE ARTS NIGHT 2022 An evening of music, art, food, and a little bit of drama on the side! Tickets are limited can be purchased at either campus. Starts at 6:30 p.m. and $7 includes a full smoked pulled pork dinner. Get your tickets now! Call the school at 608-757-1000, ext. 2 or 3.


It's time to order the 2021-22 RCCS Yearbook! The yearbook has all students and staff in grades K-12. Cost is $22 for soft cover; $29 for hard cover. Order forms are available at both campuses or order online at
https://tr5.treering.com/create-account/1014540901594549
. (The cost is slightly higher for online orders.) Order before April 20 and get free shipping!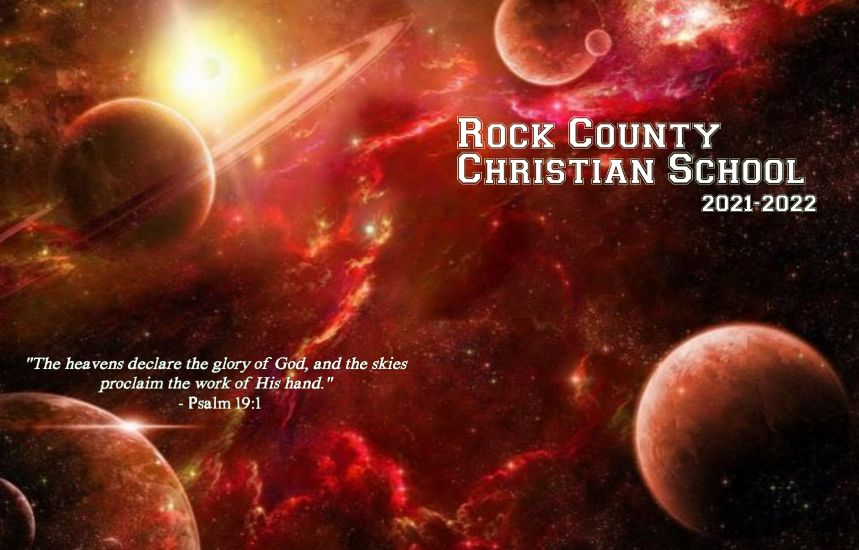 On Wednesday, March 23, the Beloit Campus hosted a Christian Women leadership event during chapel. Students Adelle Super and Karma Williams served as moderators and asked questions of the panel (Dina Knibbs, Florence Haley, Sarah Hawthrone, Linda Ross). The panel shared their stories regarding their walk with Christ and its impact on their personal and professional lives. Their stories were heartfelt and compelling! At the elementary campus, Mrs. Ray discussed joyful Nehemiah and grumpy Jonah, with help from Leah, Julia, Colton and Davontae.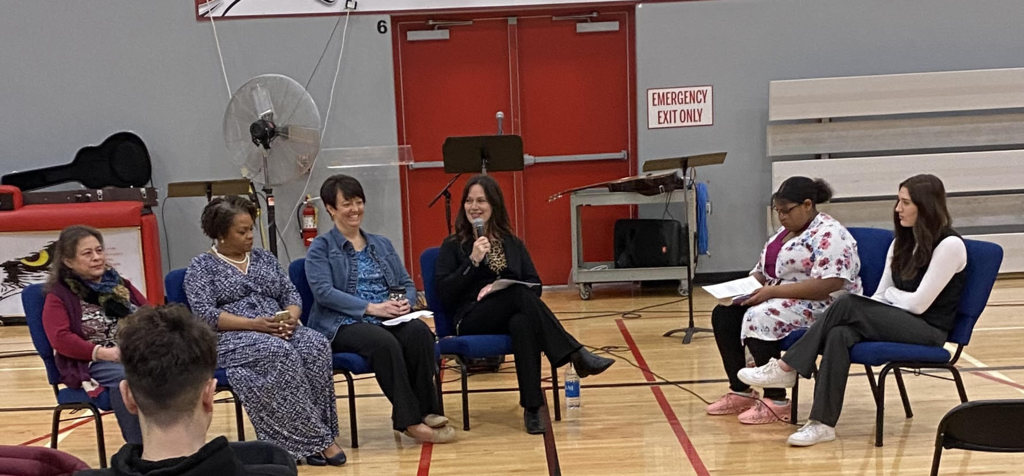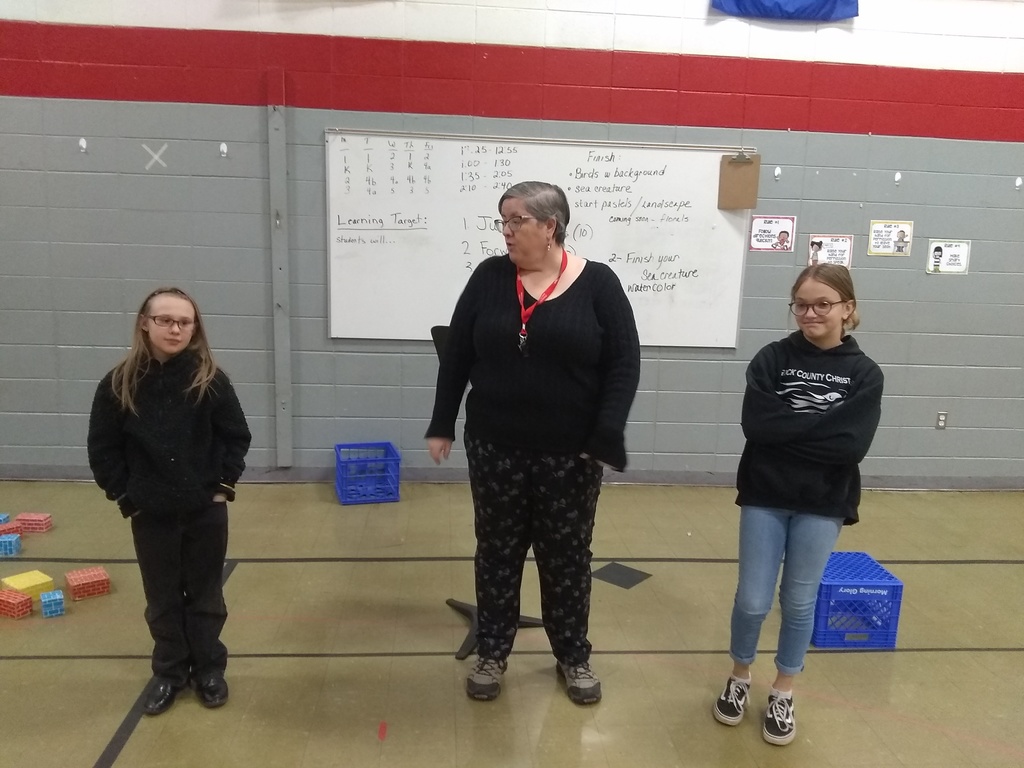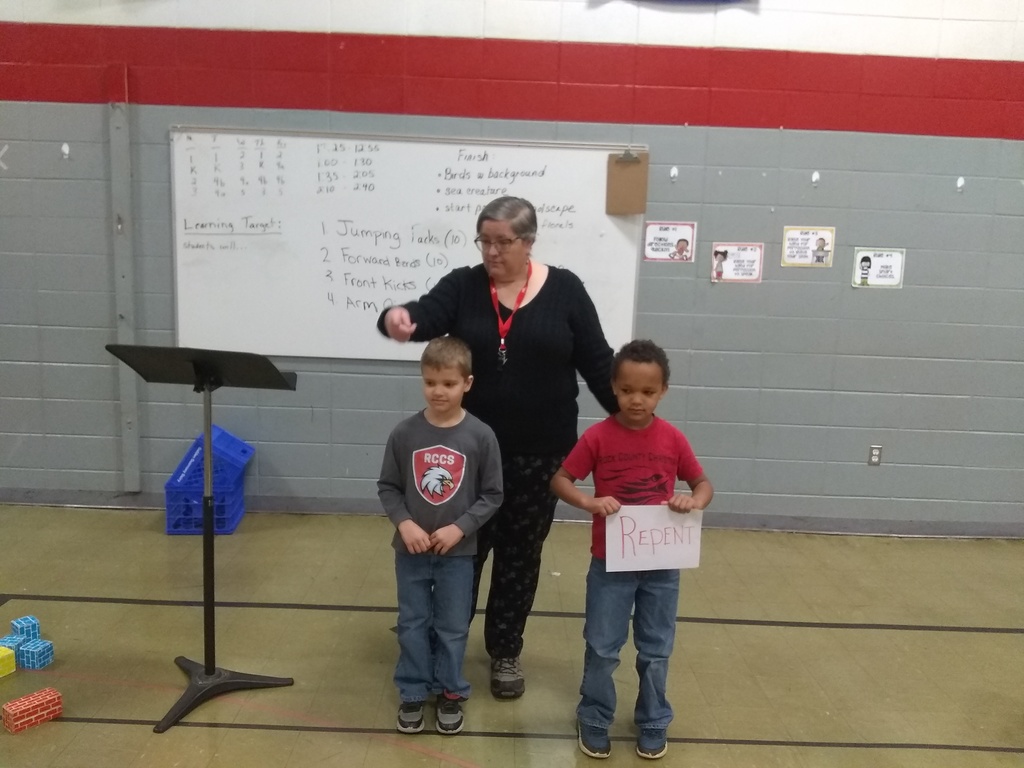 Tonight! (Tuesday, March 22) Parent-Teacher Fellowship Please join us! 6:30 - 7:30 pm  Beloit Campus 916 Bushnell Street – Beloit President/Chair: Carleigh Koper Mission Statement: The mission of the Rock County Christian School's PTF is to foster fellowship between parents and teachers while promoting, providing, and organizing volunteer support for various school functions that further the social, academic, spiritual, and financial excellence of the school.


Over 100 students and staff from Rock County Christian School participated in their Church Service Project on Friday, March 18. They provided service by cleaning fifteen churches and other Christian organizations in Rock County. We appreciate their efforts to be the "hands and feet" of Christ. For more photos, visit
https://photos.app.goo.gl/9K24oPRmSttsxYP87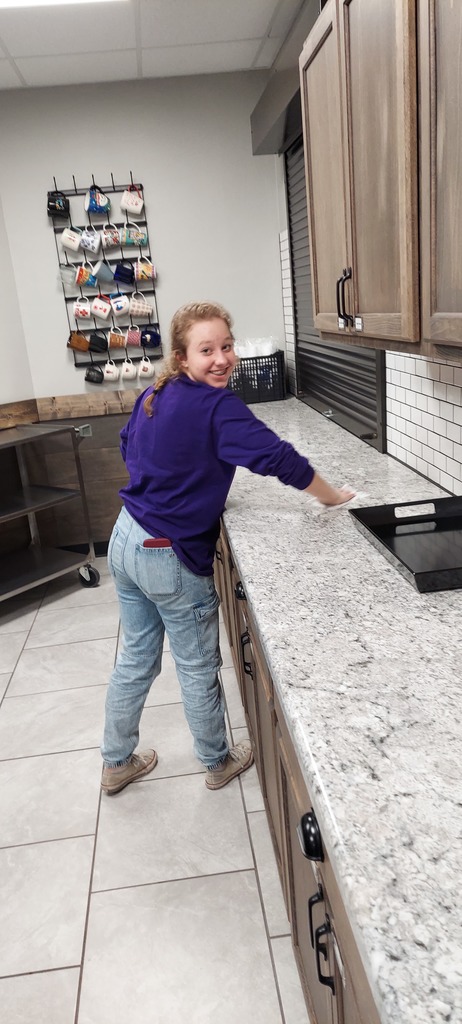 March Happenings at RCCS: On Tuesday, March 15, high school athletes and their families enjoyed a delicious sports' awards banquet provided by the Booster Club. Select athletes were recognized for Most Improved, Most Valuable, and for our highest athletic prize, the Bruce Mulder Award (for the athlete who most exemplifies Christ-like character). Sports are a great way for your child to get involved at RCCS; visit
https://www.rccs.us/page/athletics
for more information! On Wednesday, March 15, elementary students heard from our very own Mrs. Mitchell, kindergarten teacher at RCCS. Mrs. Mitchell spent many years in Ireland as a teacher, and spoke to students about Ireland, St. Patrick, clovers, and how God has a plan for each one of our lives. (For more pictures of the Sports' Award Banquet, visit
https://photos.app.goo.gl/BYTMbqPmNPM5JwbG7
)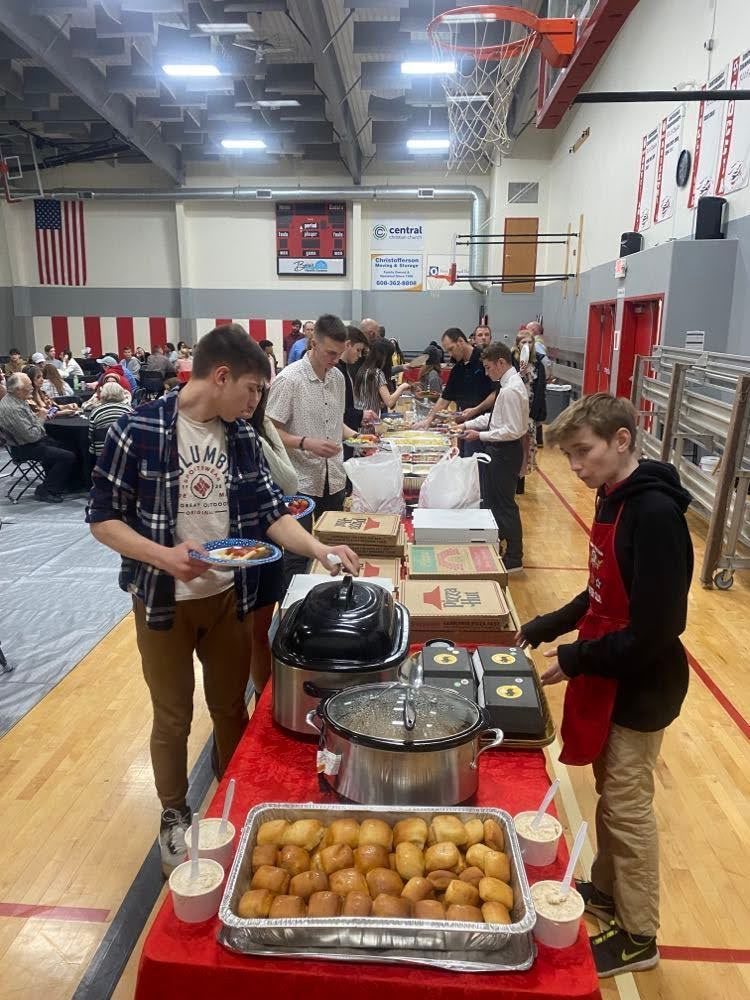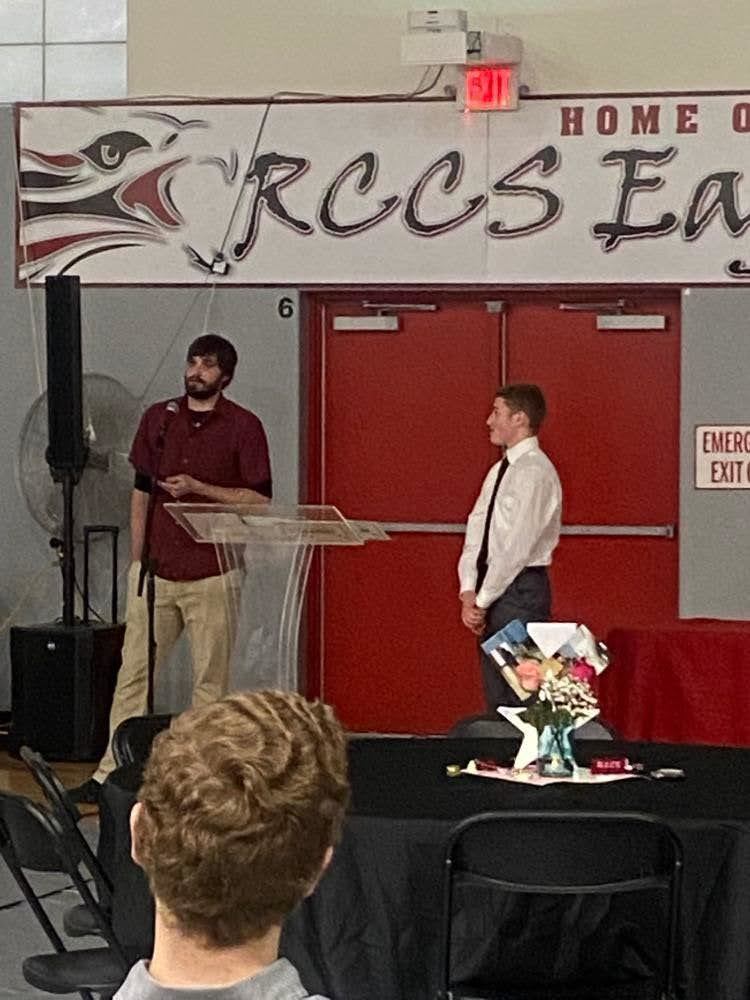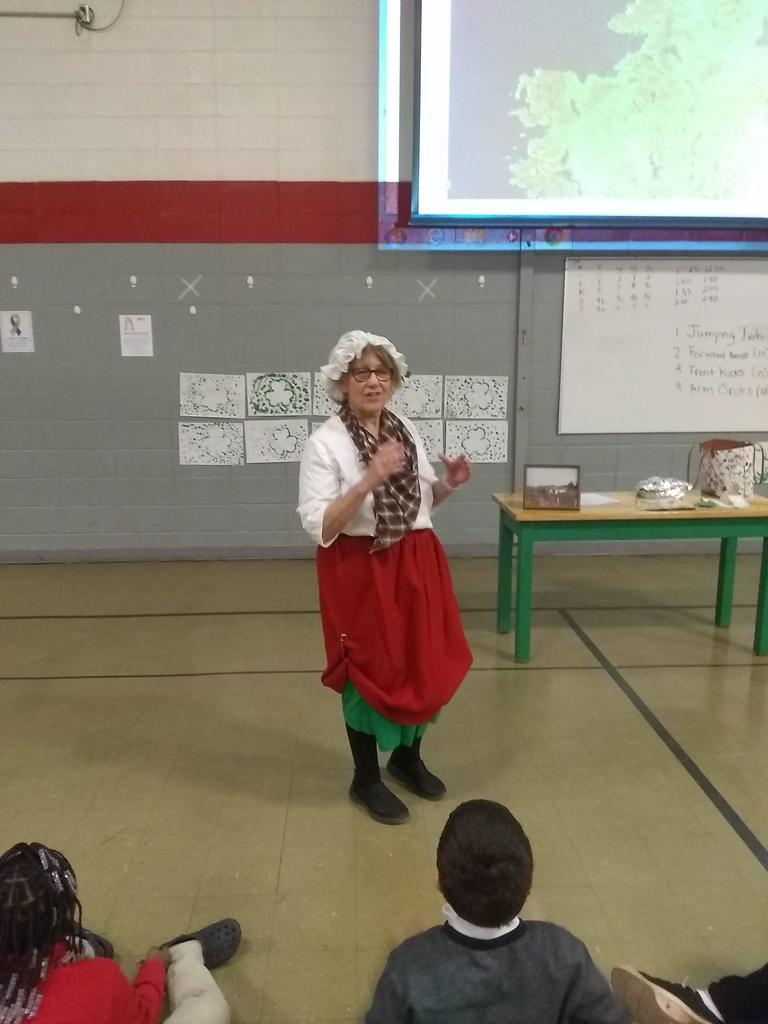 Monday, March 14 To celebrate, we have a deal for you! Buy a famous RCCS Apple Pie for just $10. First come, first served. Pies can be purchased between the hours of 10:00 a.m.-2:00 p.m. at the Beloit campus.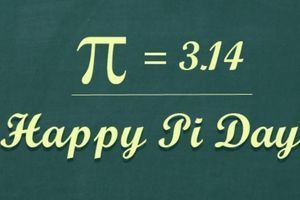 We finished out Spiritual Emphasis Week at the high school with messages from Pastor David Clark and from the well-loved Mr. Mulder. Elementary students heard from former 5th grade teacher Mr. Raleigh and from Mrs. Stalcup. Pray that the lessons the kids heard this week will impact them for eternity!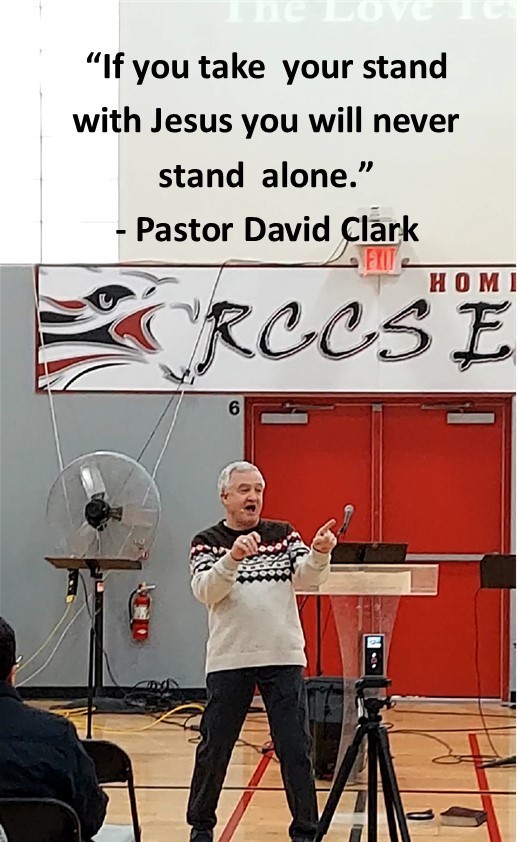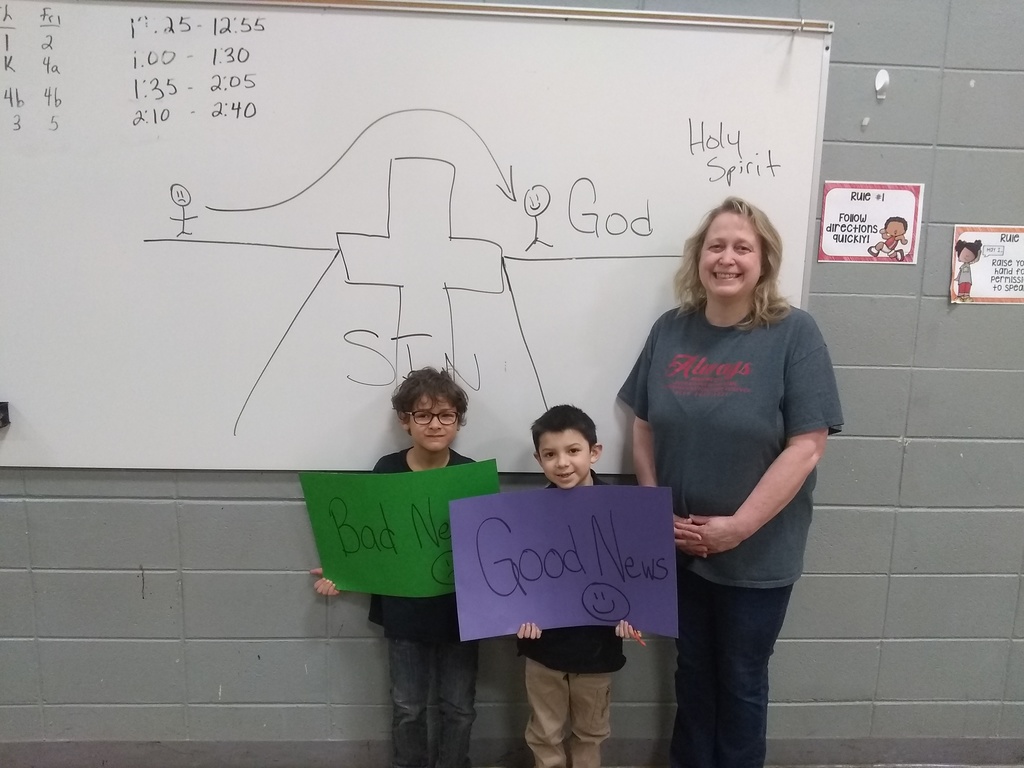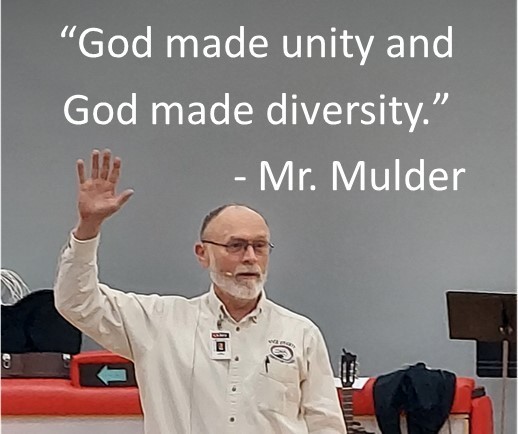 Spiritual Emphasis Week continues at RCCS. On Tuesday, elementary students heard from the Duran family, missionaries to Argentina. Marco is a kindergartener at RCCS, and he and his mom, Nathan and Christina, and little sister Miliana, will go back next Tuesday to serve another 2 years. High school students heard from Pastor Jeremy Scott on Tuesday, and on Wednesday, they were challenged by Pastor Jeff Williams. Elementary students learned more about the fruit of the Spirit from Mr. Doug Shaw. Please keep praying that the kids will learn and grow closer to Jesus this week!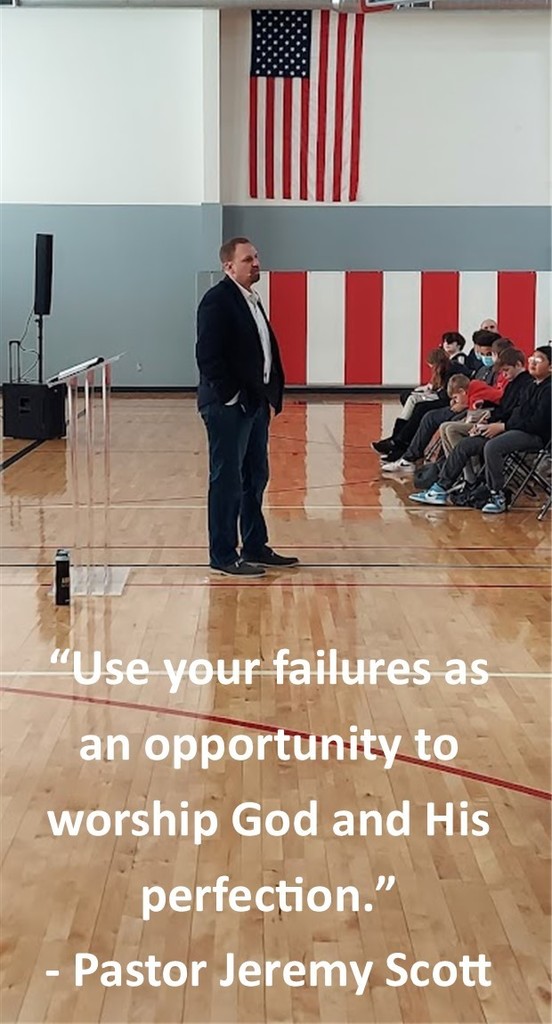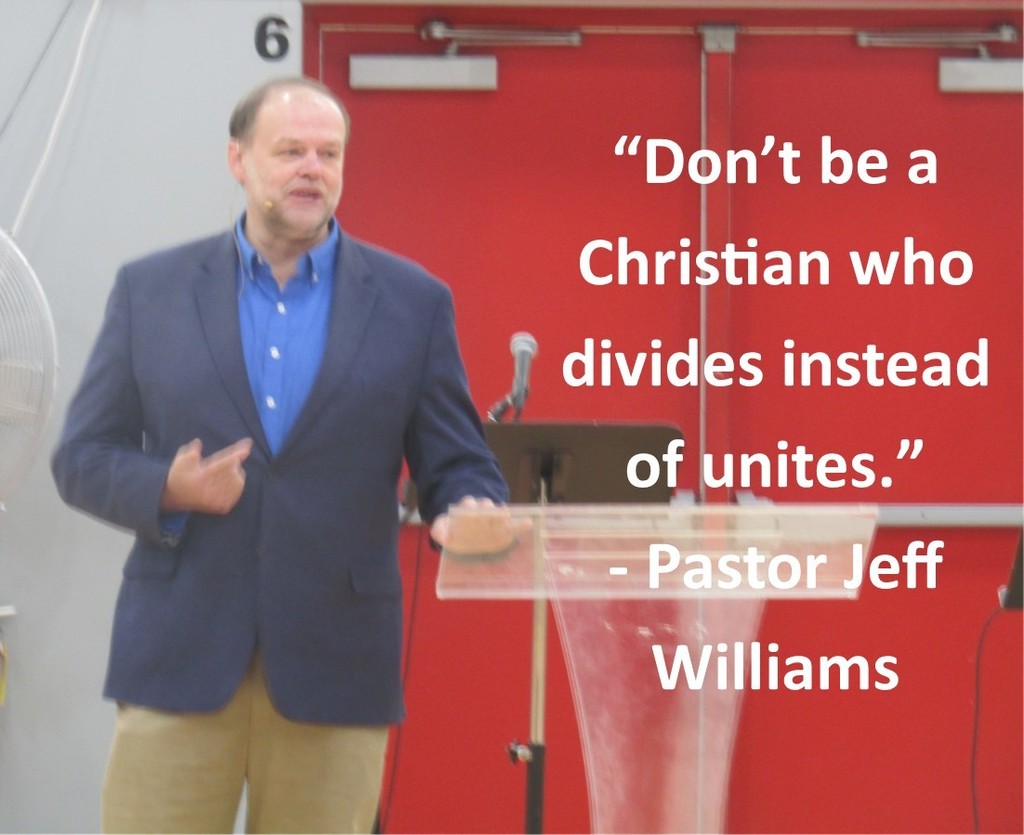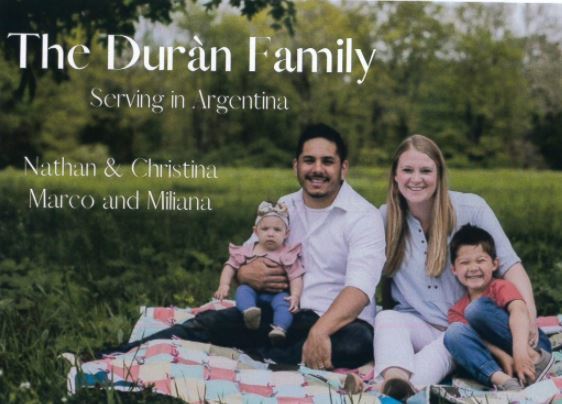 To kick off Spiritual Emphasis Week 2022, both campuses heard from author and speaker Kevin P. Horath. Visit
https://www.thefactorbooks.com/
to learn more about Pastor Horath and his books.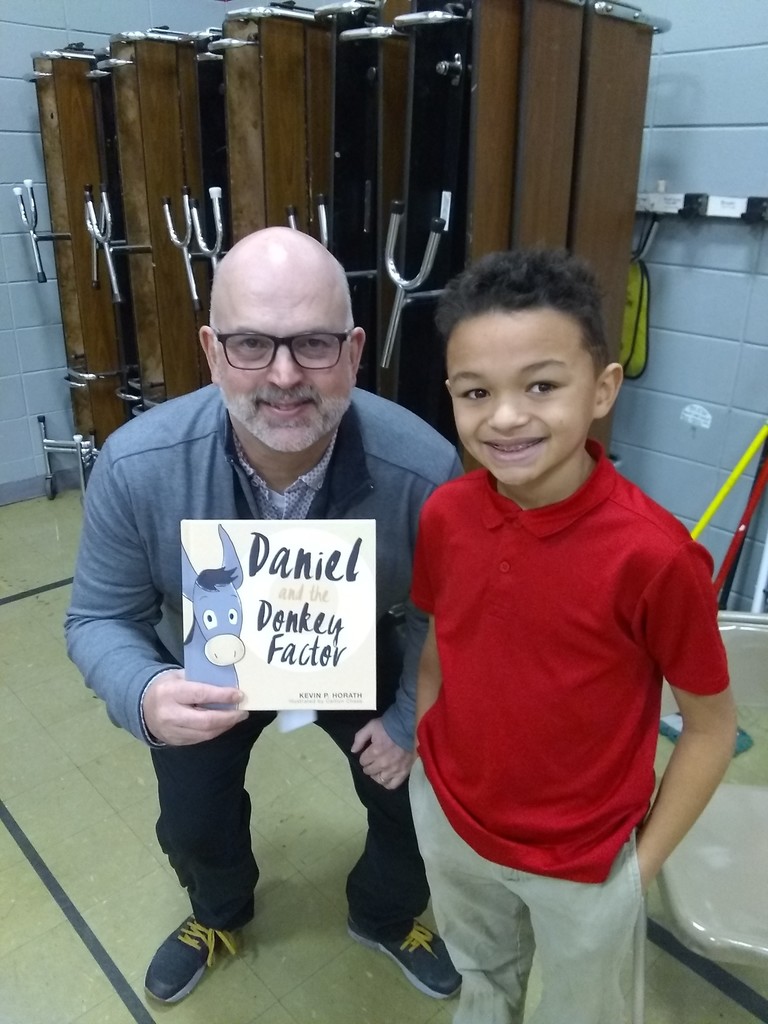 Attention all HIGH SCHOOL athletes (soccer, volleyball, and basketball) and parents/guardians: join us on Tuesday, March 15, at the Beloit campus for our annual Athletics Award Banquet. Questions? Call the school at 608-757-1000.