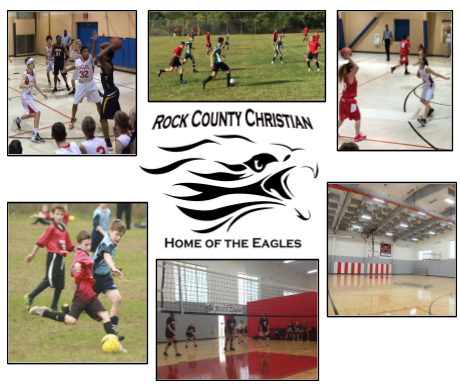 Steps to Athletic Participation
Step 1: Enroll at Rock County Christian School!
Step 2: Attend the parent-player meeting to sign-up! Both parents and players will receive important information and sign important documents as well. (If you do not attend, you will need to schedule an individual meeting with the Athletic Director, by calling (608) 757-1000 EXT: 3203 .)
Step 3: Turn in your athletic physical or complete an alternate year card. (Check with the office to find which one you need.)
Step 4: If you are going to be a driver and will take students that are not your own we need four things: drivers license, insurance card, background check and a motor vehicle background check. This needs to be done at least 3 days before a game so it can be processed.
Step 5: Pay your athletic fee in the office in full ($120 for grades 5-8; $160 for grades 9-12).
Step 6: Contact your coach to begin playing!
Note to athletes and parents: prospective players will not be allowed to practice or play until all steps have been completed. Links to the necessary paperwork can be found below.
Now you are ready to play!
Christopher Rhynes, Athletic Director
rhynes@rccs.us
Phone: (608) 757-1000, ext. 3203
Athletic Physical Alternate Year Form
Parent and Player Expectations Form
Concussion Information:
Videos: https://www.youtube.com/watch?v=F4foY1EtmKo